Laptops have a problem: their screen. There's only one, and it's too small, too far away, and too public. Sightful thinks that it's solved that problem with the Spacetop, a laptop that gets rid of the screen entirely and uses augmented reality to create a 100-inch virtual display floating in front of your face.
And you know what? It works.
It's immediately apparent that something is different. Clamshell laptops fold flat, and thin; the Sightful Spacetop looks more like a rubberized, squarish calzone, wrapped in the sort of protective cover you'd see enfold an Apple iPad or Amazon Kindle. Unfold the cover, and what makes the Spacetop special is revealed: a pair of thin, tethered, augmented glasses that sit where you'd expect to find the laptop's display planted.
Put simply, the Sightful Spacetop is designed for business travelers who want a laptop with a massive, private "display" that no one else can see. Put the glasses on, and a massive, curved virtual monitor appears before you, reaching above, below, and to the sides. You can pin and resize windowed apps: Gmail, YouTube, Word, Microsoft Teams. The Spacetop is a device that you could use on a plane flight (if you don't mind the odd looks), in a business or airport lounge (ditto), or even working in a conference room where you'd like a bigger screen.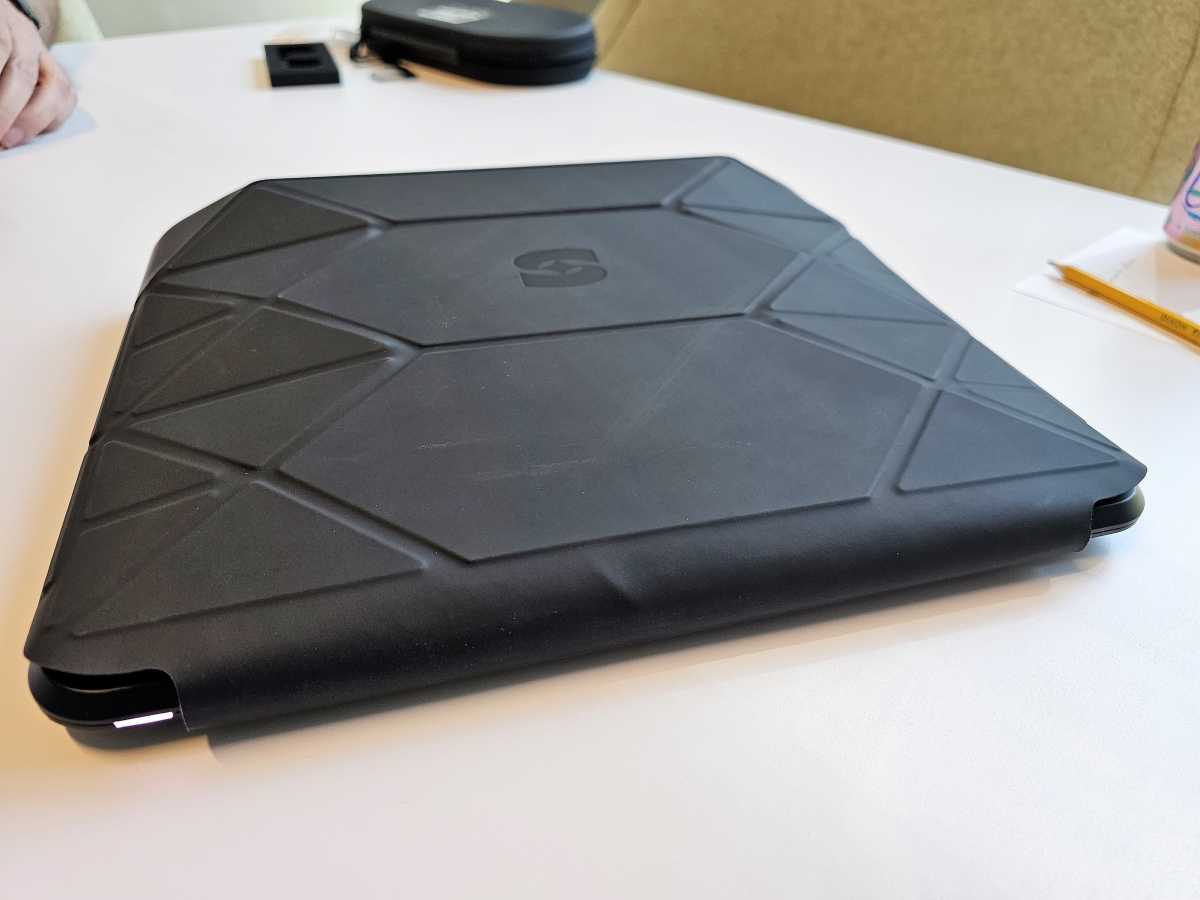 Mark Hachman / IDG
Priced at $2,000, the Spacetop is purpose-built as a business tool, with an optimized Arm processor, AOSP (open-source Android) operating system, and, of course, the custom headset. But you'll need to act fast: Sightful is inviting just 1,000 early adopters to purchase the final hardware, enticing them with the opportunity to provide feedback on subsequent products.
Spacetop's surprisingly simple hardware
We're not here to tell you that the Sightful Spacetop will eliminate the conventional laptop. Facebook (now Meta) made that pitch before, both with its "virtual office" concept and later with the (failed?) Meta Quest Pro's virtual office environment. Having tried both, though, the difference is clear: Spacetop's augmented glasses are both lighter and sharper than what Meta provided, meaning that there's less potential fatigue. Text was absolutely legible, unlike the Quest Pro, and there was little to no lag while moving the headset back and forth.
Beside its unusual silhouette, the Spacetop chassis doesn't look all that different from a conventional laptop—at least the bottom of it. The chassis measures 10.47 inches wide and 9.8 inches deep, and weighs 3.3 pounds, including the headset—very similar to a conventional laptop. The base is certainly thicker, though, at 1.57 inches. Sightful asked Wistron, a Taiwan ODM that makes laptops under other manufacturer labels, to build the Spacetop.
Inside, there's room for future improvement: Sightful built the Spacetop around a Snapdragon 865 from 2019, rather than the more advanced Snapdragon 8 Gen 2, for example. Specs include 8GB of RAM and 256GB of storage, fairly standard for a laptop. Naturally, wireless (5G NR Sub-6, Wi-Fi 6, Bluetooth 5.1) features heavily. You also get a 2560×1920 webcam, which is slightly better than what other laptops offer, plus a fingerprint reader. There's even a pair of 10Gbps USB-C ports with DisplayPort 1.4 capabilities, so you can connect an external display, if you're dying for one.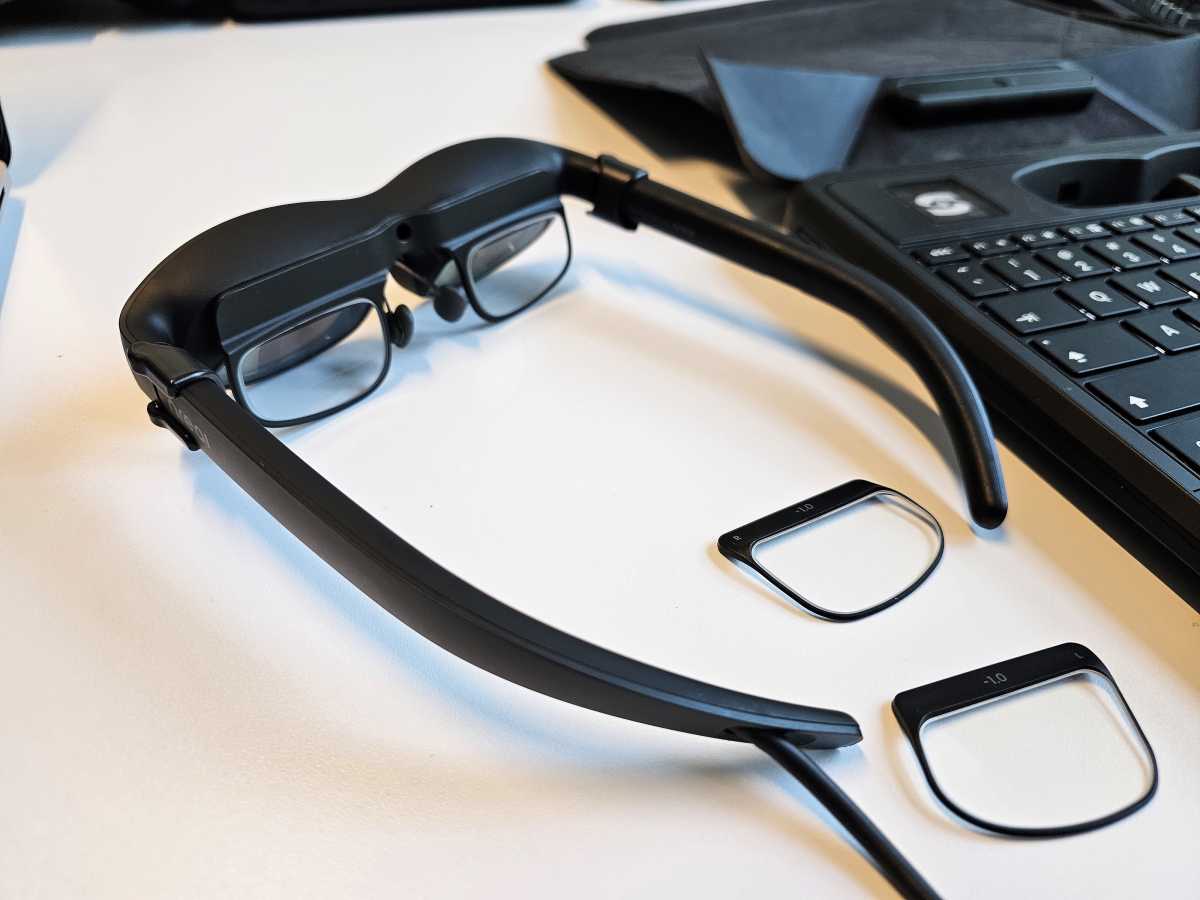 Mark Hachman / IDG
But why would you? The most important hardware is what's tethered to the front of the chassis: the headset, which delivers 1080p resolution per eye, at 72Hz. The headset (146 x 175 x 44mm, unfolded) weighs 106 grams, which is about a quarter of the weight of the almost-defunct Microsoft HoloLens, another augmented-reality device.
The Spacetop headset is light, too
Looking through the HoloLens was like looking through a porthole: the field of view (30 degrees horizontal, 17 degrees vertical) was much smaller than the 53-degree diagonal FOV the Spacetop provides. That's a decent compromise between focusing on a task and being aware of your surroundings, the excuse Microsoft used. Sightful puts most of the "viewscreen" to the top of your vision, so there's a clear, unobstructed way of seeing anything at your feet that you might stumble over.
VR nerds will appreciate that the Spacetop headset supports interpupillary distances of between 56mm and 70mm, as the width of people's eyes do vary.
The Spacetop resolution is somewhat less than, say, the Meta Quest, which provides 1720×1890 pixels per eye, and at 72Hz to 120Hz. But the Meta Quest lineup is designed for virtual reality, and the Spacetop supplies augmented reality—which is to say that the default view is like looking through a pair of sunglasses, a neat cheat to darken the background without totally occluding it. That still means that you'll prefer a "light" desktop theme to contrast the windows with the background.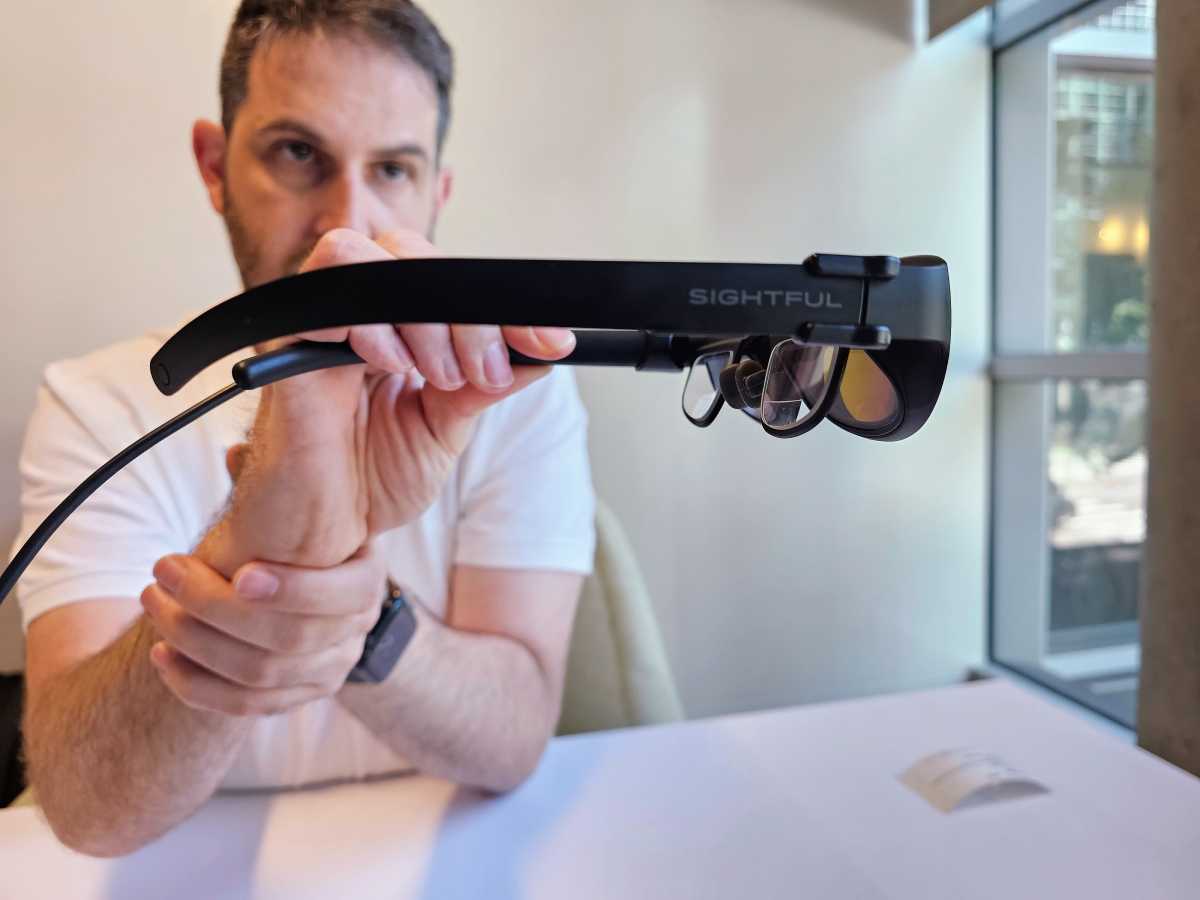 Mark Hachman / IDG
No, you can't wear Spacetop headset with glasses. To get around that, Sightful has made a generous concession: send them your prescription, and the company will craft a set of personalized lenses that will magnetically clip in to the Spacetop frame—for free!
Hands-on with the Sightful Spacetop
We had a short time to play around with the Spacetop, guided by chief executive Tamir Berliner and chief technical officer Tomer Kahan. (Their backgrounds bode well for Sightful's success: Berliner co-founded PrimeSense, whose technology gave us the Microsoft Kinect and the iPhone's Face ID. Kahan worked at N-Trig, a company later acquired by Microsoft to develop the Surface Pen. Both employees worked at Magic Leap, then left when the company re-oriented on the enterprise market. )
Put the headset on and the Spacetop environment reveals itself: a large, virtual screen with windows of all sizes, curving around you. It's like a giant Corsair Xeneon Flex—but about double the size. If you absolutely must have one, two, or even three displays at home, you may very well love the Spacetop.
Inside each window Berliner trustingly put real data: a Gmail window, a calendar, YouTube, and more. Navigating through them is the same as in Windows: You use the trackpad to drag a cursor around, resize windows, and reposition them on the screen. Unlike Meta, there are no goofy controllers; this experience feels so similar to a laptop that I picked it up almost immediately.
Sightful
The only key differences are in a gesture: a three-finger swipe up and down on the touchpad brings the curved "screen" closer or further away. This not only helps make the experience more comfortable, but also allows you to "lean in" to a given window for a closer look. In an interesting HoloLens-esque touch, the display can be "pinned" to a given location, then recalled to the laptop by tapping both Shift keys simultaneously.
A small "taskbar" floats in the center of your screen, allowing you to add windows and select apps. Since this is an open-source Android OS, the selection of apps leans heavily on productivity (office apps, basically).
I used the Meta Quest Pro's virtual workspace, and Spacetop blows it away. For one, even with a very odd prescription (one eye is near-sighted, and one far-sighted) the default corrective lenses Sightful had available worked well. Text was sharp and usable, and I'd attribute any blurriness to my eyes, not the hardware. I don't recall any lag when moving my head back and forth, and while the 75Hz lenses weren't as easy to work with as a high-refresh-rate screen, I didn't walk away with any of the vertigo I did with the Quest Pro. In part, that's because of the lens arrangement: there's a clear space at the bottom of your field of vision to see the keyboard; Meta tried to carve out a portion of its VR space to achieve the same effect, and it didn't work.
The headset, though light, felt a bit front-heavy. Kahan said that the device will ship with a pair of small weights, which can be clipped and adjusted to balance the headset. While it never felt like it would fall off (a nose clip prevents that) it was slightly distracting. Could I work within the Spacetop environment for hours? I can't honestly say.
There's one neat trick that the Spacetop does that you won't see anywhere else. The small Spacetop logo can be tapped to dismiss the UI entirely, returning you to "reality mode" to pay close attention to a coworker. But the logo can also change, transforming into a glyph that others can scan with their phone to share files—or, as Berliner reveals—eventually to join a collaborative whiteboarding session.
Sightful
Remember, the Spacetop does include a pair of 10Gbps USB-C ports, with DisplayPort 1.4 capabilities—so if you're dying for an external monitor, it appears the Spacetop can assuage those concerns.
There's one key weakness: the battery life. It clocks in at just over five hours, which is quite small for an Arm laptop as well as laptops in general. The Spacetop will charge to 85 percent in less than two hours, however. The headset also includes some small speakers, which sounded tinny and faint. Berliner said the low volume was designed to maintain privacy.
Grab a Spacetop while you can
We're left with the same impression that Magic Leap instilled: This is terrific technology, but at $2,000, a steep investment. Sightful's public stance, however, is impressive: Rather than hype up an unproven technology, it's remained very focused on selling the Spacetop as a productivity solution. This is not a frivolous device at all.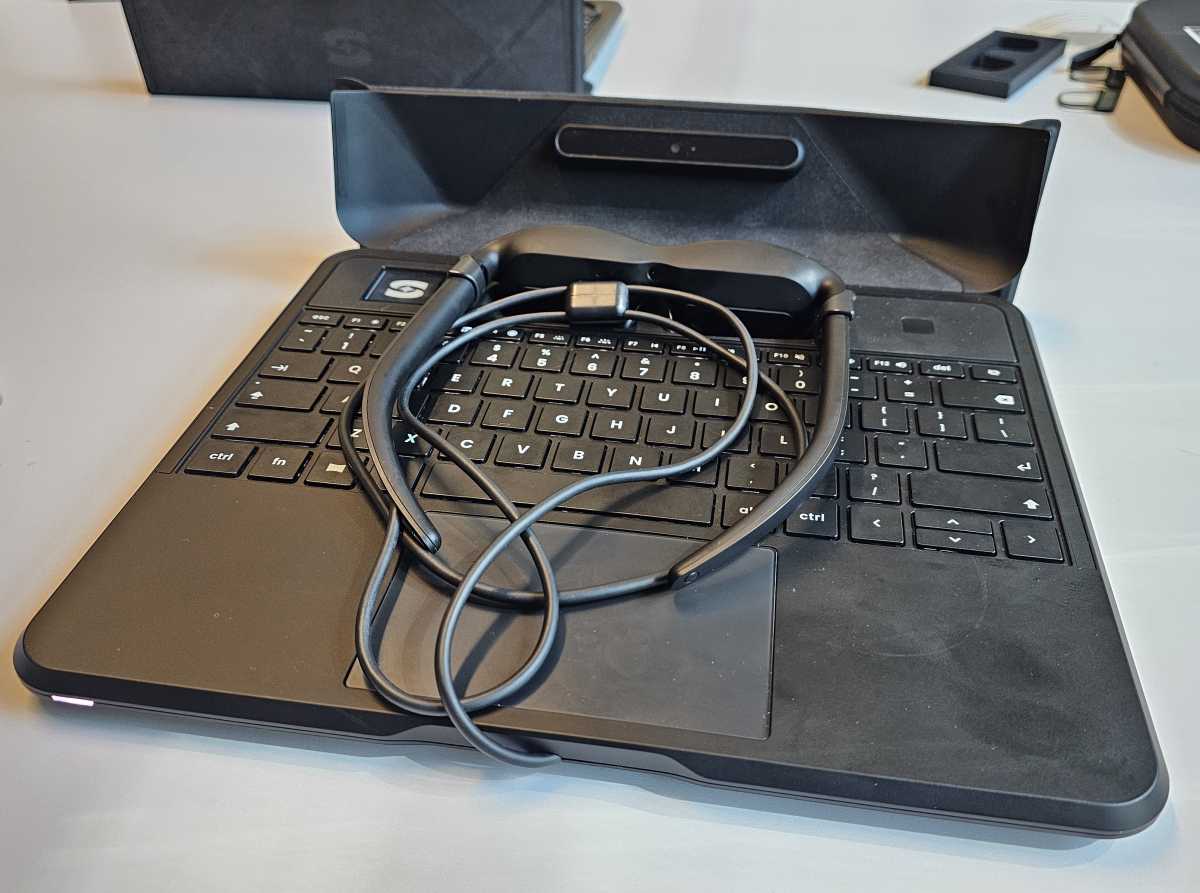 Mark Hachman / IDG
Remember, there are only 1,000 (right now) Spacetops to go around. If you want one, you'll have to sign up at Sightful.com to apply.
Sightful is launching the Spacetop at a time when many tech companies and consumers are tightening their purse strings. It will take some time with the new headset to tell whether the investment is justified. The Spacetop could be an absolutely novel, potentially game-changing product with the capacity to rewrite the market or just another expensive venture defeated by the status quo. We'll see.
Correction: Wistron is based in Taiwan, not China.