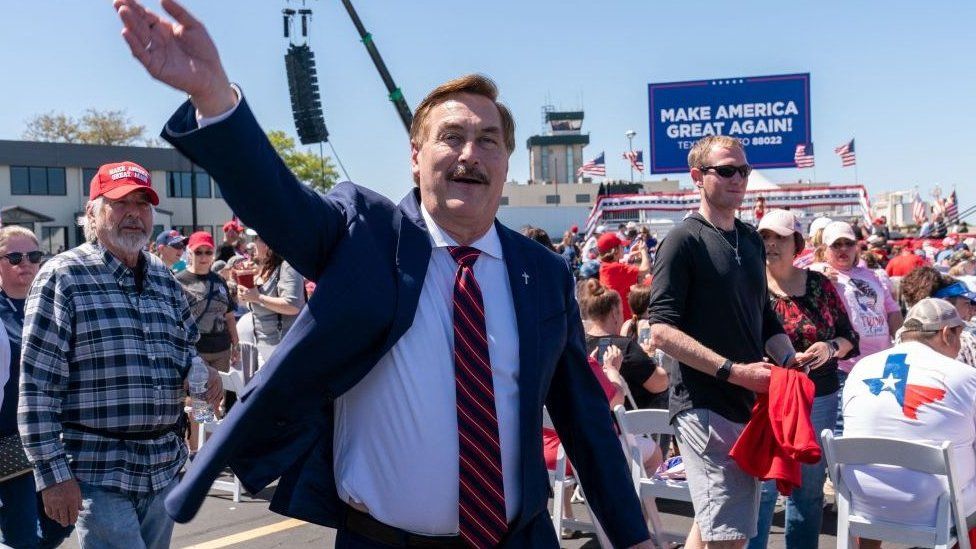 The founder of US bedding company My Pillow has been ordered to pay $5m (£4m) to an expert who proved his 2020 presidential election data was wrong.
Election denier Mike Lindell was so sure he had data showing Chinese interference in the 2020 vote that he threw down the gauntlet to others.
In 2021 he launched "Prove Mike Wrong" with $5m as a winning prize.
On Wednesday, a private arbitration panel ruled that a software expert did exactly that and was due the money.
The challenge was announced as part of a so-called cyber symposium Mr Lindell had organised in South Dakota.
He claimed Chinese interference in some US states delivered President Joe Biden the win over Donald Trump.
He offered the seven-figure sum to anyone who could prove his data had no connection to the 2020 election.
The panel ordered Mr Lindell to pay Bob Zeidman and wrote in their ruling that none of the data Mr Lindell provided was related to that election.
They also ruled that failure to pay the sum would amount to a breach of contract.
In an interview with the BBC's US partner CBS, Mr Zeidman said he spent a few hours examining the data provided by Mr Lindell before determining that it "was all bogus".
"I called my wife and said, 'Think about what you want to do with $5m'," he recalled.
Mr Zeidman, a Las Vegas resident who voted twice for Mr Trump, added that some of Mr Lindell's data amounted to "a simple Word document and a table" that was made "to look sophisticated, and it wasn't".
After submitting his findings to a panel overseeing the challenge, Mr Zeidman said he had received no response, prompting him to sue Mr Lindell for the money.
He told CBS that if he ever receives the money he will donate some of it to a charity supporting voter integrity.
In their ruling, the arbitrators noted that their role was not to determine whether election interference occurred, but rather to determine whether Mr Zeidman won the contest based on the rules and data provided to him.
Mr Lindell has vowed that he will appeal. "I don't owe him money," he said. "He didn't prove anything."
He added: "This has all been one big plan, a co-ordinated plan, to stop me and others from getting rid of the electronic voting machines in the country and get back to hand-counted paper ballots."
The My Pillow boss has also been sued by voting machine company Dominion over his false claims of election interference.
Dominion was recently awarded $787.5m (£633.11) after settling a defamation lawsuit with Fox News over its reporting of the 2020 election.
Who is Mike Lindell?
Also know as the "My Pillow Guy", Mr Lindell grew up in Minnesota and is an outspoken supporter of Donald Trump
He has spoken openly about his former addictions to gambling and crack cocaine, which he says came to an end after he turned to prayer
Mr Lindell has been seen at Trump's side to help advise him on issues such as opioid addiction, US industry and the coronavirus pandemic
In 2021, several major US stores stopped carrying his products as he began endorsing election conspiracies
In 2022, he spent millions to launch a social media app called Frank Social