you beta believe it —

We'll also explain how the beta install process has changed since last year.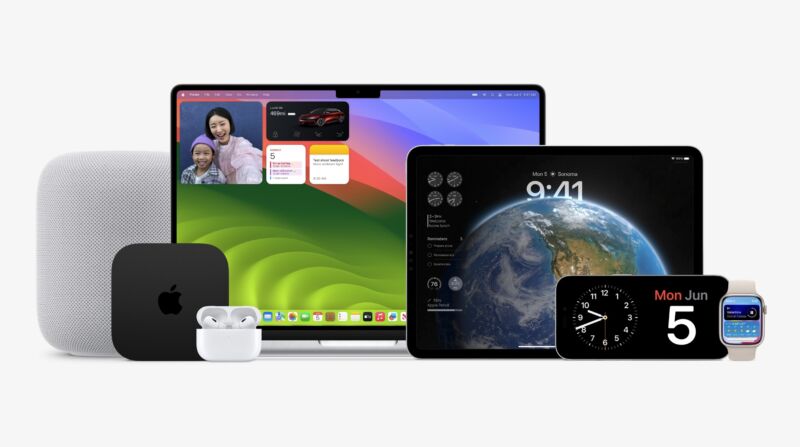 Usually when Apple announces big new operating system updates at WWDC, it releases early, work-in-progress developer betas for app developers who have paid for an Apple Developer account. A few weeks later, once the betas have been updated a couple of times, it has released somewhat more-stable public beta versions for general consumption.
That has changing this year. Anyone who signs in to Apple's developer site with their Apple ID will have access to the developer beta builds of iOS 17, macOS Sonoma, and Apple's other operating systems for free. Actually submitting apps to Apple for App Store distribution (or, on the Mac, signing them so that you can distribute them outside the App Store without setting off macOS' many unsigned app warning messages) will still cost $99 per year. But enthusiasts and testers who use developer accounts to get early beta access will no longer need to pay to do it.
Apple will still release public beta builds of all its operating systems through its public beta program sometime in July.
It should go without saying, but don't install these beta operating systems on anything that you rely on day to day. That's doubly true for these initial developer betas, which have historically been especially buggy and prone to crashes and compatibility issues. Past public betas from Apple have corresponded to the third or fourth developer beta build, so if you've only experienced the public betas before, know that the first developer betas are usually in pretty rough shape.
How to install, and how things have changed
The pricing isn't the only thing that has changed about how Apple releases its beta software since the first iOS 16 and macOS Ventura betas a year ago.
The process differed slightly for iDevices and Macs, but historically you needed to download and run a file on your device to point it at the beta update servers instead of the public ones. On iDevices, this was a "provisioning profile," while Macs just had a package that used the command-line seedutil tool behind the scenes. (Installing developer betas on macOS has been "free" for a long time, if you looked up the right seedutil command.)
That changed circa the iOS 16.4 and macOS 13.3 releases. You now opt in or out of Apple's beta programs in the Software Update section of the Settings app. The list of betas available to you is tied to your Apple ID, so you'll need to have signed in to your device using the same Apple ID you used to sign in to Apple's developer site.
Once you've signed up for betas, you'll see everything that's available to you on devices that are signed in with the same Apple ID.


Andrew Cunningham

The same process in macOS Ventura.


Apple
It's a little annoying to need to sign in with an Apple ID to access the betas, though you can sign out once you've installed the software and do a factory reset if you want a fresh "clean" install of the new OS. You'll also need to be running a recent version of macOS or iOS on your devices, which could add some extra update time if you're using a test phone, tablet, or Mac that you don't always actively use and update.
But the new system helps solve one problem I've occasionally encountered while testing software. This time of year, Apple is usually testing two different beta operating systems—right now, iOS 17 and macOS 14 are available alongside iOS 16.6 and macOS 13.5, for example. The new system makes it easy to know exactly which beta you're opting in to and to easily switch between (or opt out of) beta programs if you want to.
Apple does still offer full IPSW restore images for many devices. These are the same kind of operating images that macOS or the Apple Configurator software would download to revive a soft-bricked device, and you can boot your device into recovery mode and install it directly without needing to sign in. This is also the quickest way to get a clean install, if you prefer a blank slate when you start testing new software, and the only real way to roll back to a non-beta version of the operating system.
That said, restore images are only available for iPhones, iPads, Apple Silicon Macs, and the old Apple TV HD. Intel Macs, Apple Watches, and newer Apple TVs will need to be updated via Software Update. Apple Watches and newer Apple TVs can't be downgraded after they're upgraded, so proceed with extra caution there.