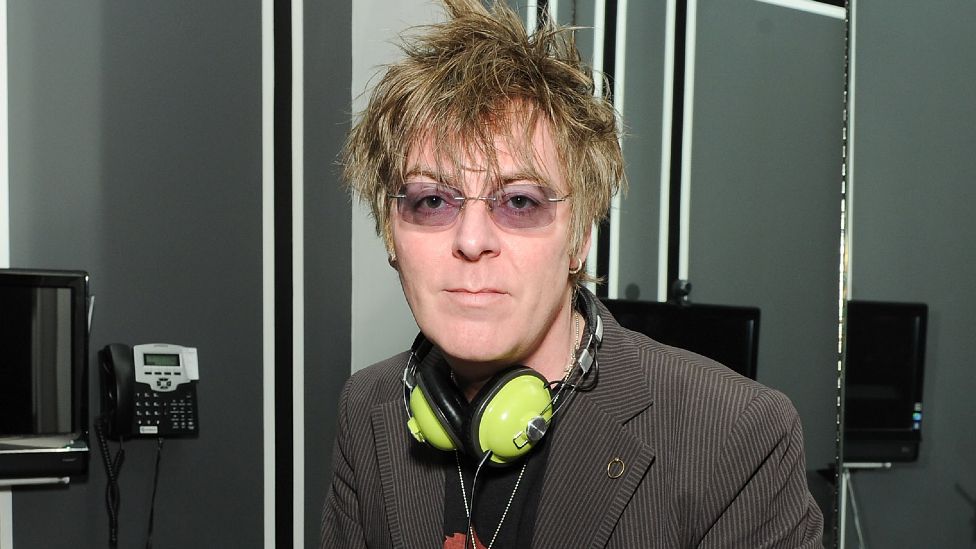 By Steven McIntosh
Entertainment reporter
Andy Rourke, the bassist for rock band the Smiths, has died aged 59, the band has announced.
Guitarist Johnny Marr confirmed "with deep sadness" that Rourke died after a lengthy illness with pancreatic cancer.
In a statement posted on Twitter, Marr said: "Andy will be remembered as a kind and beautiful soul by those who knew him and as a supremely gifted musician by music fans.
"We request privacy at this sad time," he added.
Rourke played on the Smiths' most famous songs including This Charming Man and There Is a Light That Never Goes Out, as well as solo singles for singer Morrissey after the group broke up in 1987.
The bassist performed on all four of The Smiths' studio albums: 1984's The Smiths, 1985's Meat Is Murder, 1986's The Queen Is Dead and 1987's Strangeways, Here We Come.
Rourke's bandmate, drummer Mike Joyce, tweeted: "Not only the most talented bass player I've ever had the privilege to play with but the sweetest, funniest lad I've ever met. Andy's left the building, but his musical legacy is perpetual. I miss you so much already. Forever in my heart mate."
"I remember so clearly playing that Barbarism break over and over, trying to learn the riff, and marvelling at this steely funk driving the track along," he recalled.
"I haven't been able to read any other news about details yet but I send my deepest condolences and thoughts to his friends and family. RIP."
Later in his career, Rourke played as part of a supergroup called Freebass with two other Mancunian bass players, Gary "Mani" Mounfield from the Stone Roses and Peter Hook from New Order.
Across his decades-long career, Rourke also recorded with the Pretenders, Killing Joke, Sinead O'Connor, Aziz Ibrahim (formerly of the Stone Roses), and former Oasis guitarist Bonehead as Moondog One, a band which also included Mike Joyce and Craig Gannon.
He played with another Manchester singer-songwriter Badly Drawn Boy, joining his touring band for two years.
"He was the coolest, kindest funniest person, a joy to tour with. Probably the best natural musician I've ever seen. Loved him. Gutted."
This Instagram post cannot be displayed in your browser. Please enable Javascript or try a different browser.View original content on Instagram
The BBC is not responsible for the content of external sites.
Rourke was born on 17 January 1964 to an English mother and an Irish father. He was interested in music from an early age and began learning the guitar aged seven.
"I always used to get a musical instrument either for Christmas or on my birthday so I went through plastic trumpets, saxophone, keyboard, I tried a bit of everything," Rourke said in a 2016 interview. "I played a bit of cello later on but I made that up as I went along because it was needed on a Smiths record so I just bought one, tuned it up like a bass and went from there."
He struck up a friendship with Marr aged 11. "We were best friends, going everywhere together. When we were 15 I moved into his house with him and his three brothers and I soon came to realise that my mate was one of those rare people that absolutely no one doesn't like," Marr recalled.
Marr and Rourke formed a band called Freak Party but did not release any music.In 1982, when Marr formed the Smiths with Morrissey and Joyce, the group initially trialled two other bassists before permanently enlisting Rourke. Marr described playing the bass as Rourke's "true calling".
The group became the defining Manchester act of the 1980s and an icon of British alternative rock, with hits including Heaven Knows I'm Miserable Now and Girlfriend In A Coma.
Rourke was briefly sacked for two weeks in 1986 for taking heroin, but returned to record The Queen Is Dead album later that the same year.
In 1989, Rourke and Joyce took Morrissey and Marr to court, arguing they were owed an equal share of earnings, having only earned 10% each of the group's performance and recording royalties.
Rourke settled for a lump sum of £83,000, but Joyce persisted with the lawsuit and was awarded around £1m in backdated royalties and 25% thereafter. Rourke later filed for bankruptcy, in 1999.
"Andy reinvented what it is to be a bass guitar player," Marr said. "Watching him play those dazzling basslines was an absolute privilege and genuinely something to behold.
"We maintained our friendship over the years, no matter where we were or what was happening… Well done Andy. We'll miss you brother."
Later in his career, Rourke became a radio presenter on the rock station then known as XFM.
Singer Billy Bragg tweeted: "Very sorry to hear that Smiths bassist Andy Rourke has passed away. I have great memories of him playing with Johnny Marr and myself on the Red Wedge tour. He was a lovely guy and an amazing bass player. My condolences to his family and friends."
The Charlatans singer Tim Burgess added: "Such sad sad news about Andy Rourke – he was an inspirational musician with a style that made so many of us pick up a bass guitar; and the driving force for [benefit concert] Manchester Versus Cancer. Our thoughts are with everyone who knew him. Travel well x."
Music journalist and fellow bassist John Robb told BBC Radio 5 Live: "In Manchester, because it's such a tightly nit musical scene and musical family, it feels like you've lost someone from your family. You feel like you've lost one of your own.
"[Rourke's] talent, you have to celebrate it. He was a kind and beautiful man. He was one of those people who's good to be in the company of. He was affable, gentle, kind spirit. But his basslines were so key to The Smiths. They were melodic – driving the songs along. He was the melodic spine to those songs and really made those songs."