(Image credit:
f9photos/Getty Images
)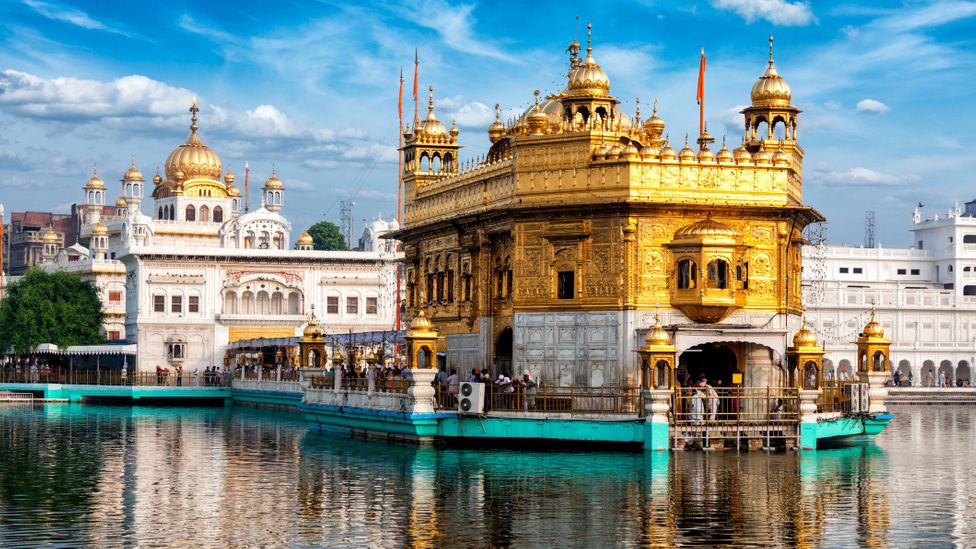 As the beating heart of the Sikh religion, the north Indian city of Amritsar is known for its spirit of generosity, with its Golden Temple serving 100,000 free meals a day.
A
Amritsar, a north Indian city of two million people, is famous for many things: delectable cuisine, its historical old town and the spectacular Golden Temple – the most significant shrine of the Sikh religion. Yet, what stands out everywhere, from the temple to the people in the streets, is a feeling of generosity that is linked to the very founding of the city.
Amritsar was established in the 16th Century by a Sikh guru and is located in the region of Punjab where Sikhism originated. The religion is known for its tradition of seva – a voluntary service performed for others without any expectations or reciprocity. Sikhs all over the world do seva in gurudwaras (Sikh temples), most often in simple acts like cleaning the floors, serving meals and maintaining order in the temple. Others perform seva in their private life through acts of generosity and charity. In April 2021 when Covid devastated families across India, the Sikh community rose to the challenge of delivering oxygen cylinders and other medical supplies to those in desperate need.
"Seva means selfless service, and in Sikhism it is not just an exhortation and a guide but a daily practice," writes Jasreen Mayal Khanna in her book Seva: Sikh Wisdom for Living Well by Doing Good. "Kind has been cool among Sikhs way before it became a Brooklyn hipster motto."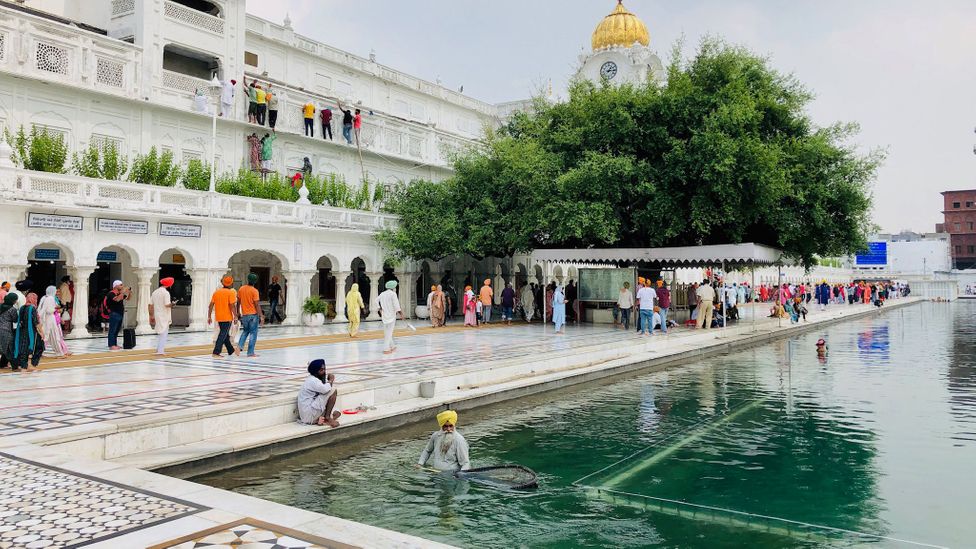 Sikhs all over the world do seva, such as cleaning the Golden Temple's holy pool (Credit: Raphael Reichel)
"The other name for seva is love," said 23-year-old Abhinandan Chaudhary, who has been doing seva with his family since he was eight. "A common teaching is that one should be so discreet and selfless, that if you are doing seva from the left hand, even your right hand should not find out about it."
In an increasingly individualised and capitalistic world, it is a refreshing way of living.
The spirit of generosity in Sikhism can be seen across the world. During Covid lockdown, Sikh volunteers in a gurudwara in England delivered thousands of meals a day to NHS staff, while Sikhs in various US cities cooked hundreds of thousands of free meals. In crisis or emergency situations, Sikhs have rallied their full force to help those in need, whether it may be storm-hit Canada or cyclone-struck New Zealand.
But in Amritsar, the beating heart of the Sikh religion, the fulfilment of seva is taken to another level. It is known throughout India that no person ever has to go to bed hungry in Amritsar. That's because there is always a hot meal ready for anyone who should want it at the Golden Temple, the most significant shrine of the Sikh religion.
The Golden Temple's langar, a free, communal kitchen, is the largest in the world, serving 100,000 people per day, seven days a week. Everybody is welcome to eat here, without discrimination, for as long as they need shelter and food, and meals are available 24 hours a day.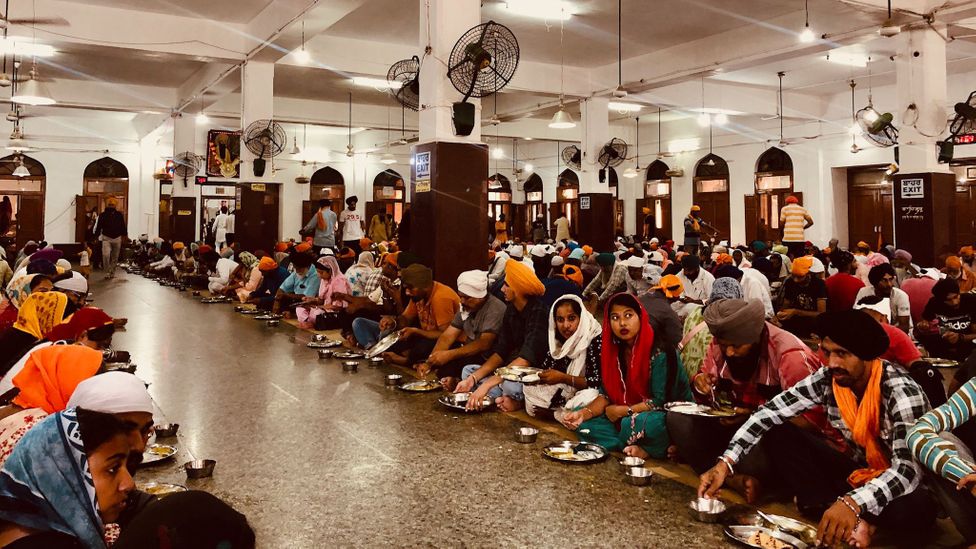 The Golden Temple's communal kitchen serves hot meals to 100,000 people each day (Credit: Raphael Reichel)
The New York based, Michelin-star chef Vikas Khanna, who distributed millions of meals in India during Covid lockdown, pointed out: "I was born and raised in Amritsar and we have a huge community kitchen where everyone gets fed. The entire city can eat there… My sense of hunger came from New York, when I was struggling here from the very bottom."
I was born and raised in Amritsar and we have a huge community kitchen where everyone gets fed
Like all gurudwaras, the Golden Temple is run smoothly and with utmost discipline by an armada of volunteers, who serve up a basic yet delicious meal of lentils, chapattis (flatbread), chickpea stew and yoghurt on stainless steel plates day in, day out. People sit cross-legged on the floor in huge halls that can easily accommodate 200 people at a time: men and women, old and young, rich and poor. There is an implicit choreography behind it that everyone seems to know. While some people ask for more food, others just quickly finish their plates and leave. After every 15 minutes or so, volunteers clean up and prepare the hall for the next round of hungry eaters. It is a never-ending cycle of eating and serving.
Right from the temple to the people on the streets, friendliness, generosity and helpfulness are a given in Amritsar. When we visited, smiles followed us around and we only needed to look lost or confused before somebody would approach to ask if they could help. Walking on the street at night, random passersby told us to take care of our bags in busy areas. When we arrived at Kesar da Dhaba, a famous eatery with long waiting times, people squeezed up at the communal tables to make space for us, even if it meant banging elbows while eating. A sense of welcome and sharing was ubiquitous; an affable glance and a smile was enough for strangers to invite us to tea and talk about their lives.
"Growing up in Amritsar, there was a feeling of living within a big community," said Rahat Sharma, who was born and raised here. "I grew up playing hide-and-seek in the Golden Temple, where all of us did seva. Everyone would look out for each other, and the Sikhs and Hindus, the two majority faiths in the city, lived together lovingly, despite often opposing political circumstances."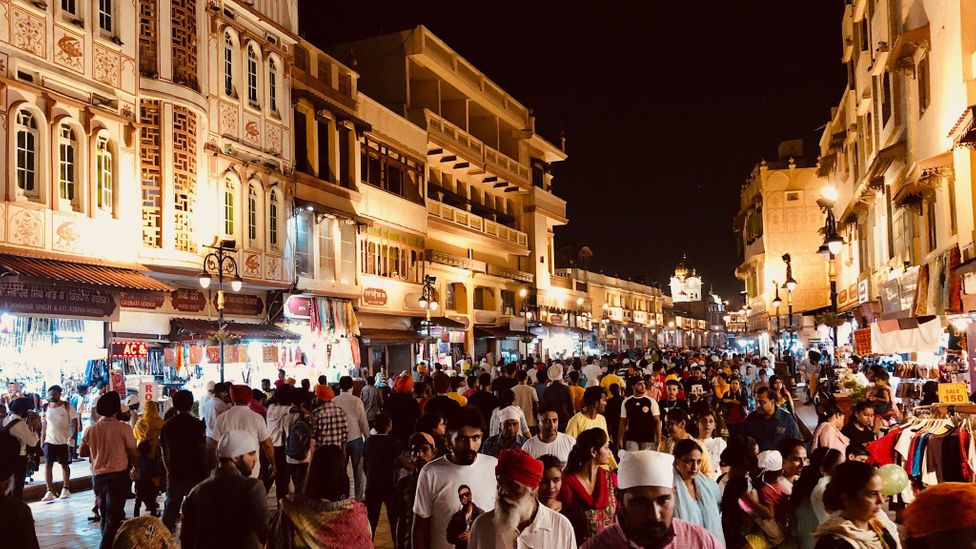 Amritsar was established in the 16th Century by a Sikh guru and is the spiritual centre of the Sikh religion (Credit: Raphael Reichel)
It only makes sense that the city is so full of vigour, for as much as Amritsar is a city of the divine, it is a city of life. The local, streetside cuisine, with its kulchas (flatbreads) and chole (chickpea stew), phirni (rice pudding) in traditional clay pots and hearty glasses of buttermilk, is the stuff of envy across India. The stunning although neglected old town, a maze of narrow streets, junctions and small squares, is full of lively and bustling bazaars and seems to be lost in time.
However, at the heart of Amritsar's magnanimous and open character is a dark contemporary history that has played a crucial part in shaping the city's – as well as Sikhism's – self-conception and dynamics.
As the second-biggest city in Punjab, Amritsar was often a hotspot for gatherings and protests during British colonial rule. One such event took a brutal turn in 1919, when a British general gave orders to fire upon a peaceful meeting of people, which came to be known as the Jallianwala Bagh Massacre, where up to 1,500 people died.
Additionally, when the British hastily left India in 1947, the violence that engulfed Indian Partition heavily affected Amritsar due to the city's location next to the newly drawn border. (Due to this history, India's first and only Partition Museum opened in Amritsar in 2017.)
In 1984, Amritsar once again became the site of tragic events. A momentous military operation ordered by Prime Minister Indira Gandhi involved the storming of the Golden Temple by military forces to weed out secessionists, the jitters of which are felt even today. It led to the assassination of Gandhi by her two Sikh bodyguards some months later, and a massacre of thousands of innocent Sikhs across India in the subsequent days.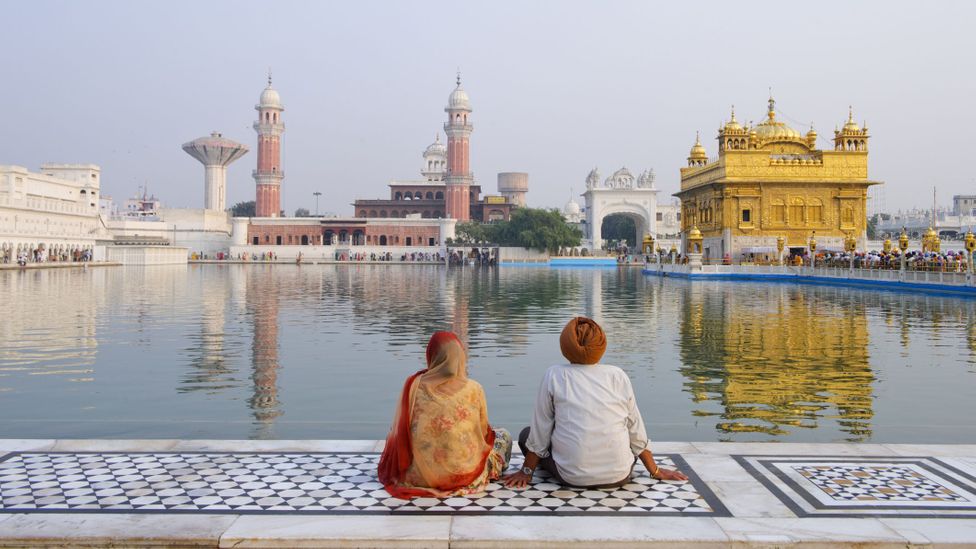 The Sikh religion places a strong emphasis on doing good deeds and helping others (Credit: Alison Wright/Getty Images)
It is important for the Sikhs to preserve the memories of these events; tales of Sikh martyrs are a large part of their cultural memory, even recited in their prayer, the ardas. "But these tales weren't retold to incite hatred or seek revenge. On the contrary, our legacy of being protectors was emphasised," Khanna wrote.
And that is why it is even more admirable that a community that has suffered so many collective traumas is still so giving and accepting of all. According to Khanna, these traits are an integral part of being Sikh. "Guru Nanak (the founder of Sikhism) made seva the song of the Sikhs… Sikhs just choose to make selflessness a big part of their lives, inspired by their gurus' words and deeds."
The tradition of seva and Sikhs' acceptance and welcoming of people regardless of their faith or creed, is testament to their generosity – and of the city that grounds this sentiment in the most exemplary way. In Amritsar, no matter how bleak and dark things may seem, a spirit of kindness, love and generosity seems to always prevail.
Soul of the City is a series from BBC Travel that invites you to uncover the unique characteristics of cities around the world through the stories of the people who live there.
— 
Join more than three million BBC Travel fans by liking us on Facebook, or follow us on Twitter and Instagram.
If you liked this story, sign up for the weekly bbc.com features newsletter called "The Essential List". A handpicked selection of stories from BBC Future, Culture, Worklife and Travel, delivered to your inbox every Friday.
;